India's first train trial run turns 161 today
Monday, Nov 18, 2013, 7:49 IST | Place: Mumbai | Agency: DNA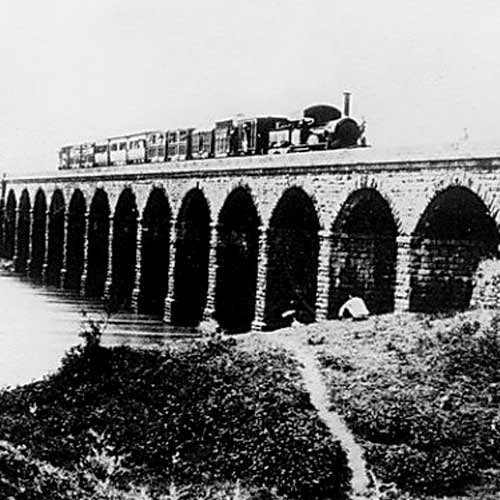 Pic courtesy: Central Railway archives
"There was immense excitement and enthusiasm. The train and railway tracks were a new thing to arrive in Bombay in the 1850s, and were a city-wide attraction," recalls Surendra Sunkersett, the great-great-grandson of Jagannath 'Nana' Sunkersett, one of Mumbai's biggest philanthropists back in the 1850s.
Sunkersett is referring to the day Mumbai — then Bombay — had its first end-to-end train trial run. It had taken place on this day, November 18, exactly 161 years ago.
"The date was November 18, 1852. Nana was one of the Indian directors of the railway company called the Great Indian Peninsula Railway. It was a big day for the railway. Nana had made persistent efforts for the railway system to be started in Mumbai. This was India's first train trial run," 80-year-old Sunkersett told dna, adding, "When the engine and the train took a trial run to Thane, my great-great-grandfather was proud to be on it."
Many people might be able to tell you that India's first train ran between Bombay and Thane on April 16, 1853. But not many would know that it was in November the previous year that the trial run took place. Railway history books state that the engines were yet to arrive and that the trial run was done with a shunting locomotive.
"Nana was so enthusiastic to start a railway in Bombay that he had offered one of his bungalows in Girgaum as a ticket booking office because the railways did not have any land back then. The gesture went down very well with the new railway company," he said.
The British thanked Nana by offering him a golden pass, which entitled him to travel anywhere on the train. The family surrendered the pass after his death.
"The VT station building, built in 1888 and designed by FW Stevens, has a bust of Nana on its facade, where we pay homage to him every year on his death anniversary," Sunkersett said.
Nana played an important role in some of the major reconstruction efforts in the city, beginning 1857, including setting up schools. He was also one of the Indians to be nominated to the Legislative Council of Bombay.
"We want the railways to rename Mumbai Central in Nana's honour," Sunkersett added.
Deja vuAs the first stretch of the 11.4km-long Mumbai Metro conducted its first end-to-end trial from Versova-Andheri to Ghatkopar, it gave a sense of déjà vu as it was in November 1852 that the end-to-end trial of the first train of Indian Railways had taken place. The trial run between Bombay and Thane carried prominent people of the day, apart from railway engineers.
INDIAN RAILWAY TELEPHONE
ISLAM FOR ALL WORLD
MUSLIM SHAADI
MUSLIM NAMES